Rouhani and Macron in talks to save the Iran Nuclear Deal
Comments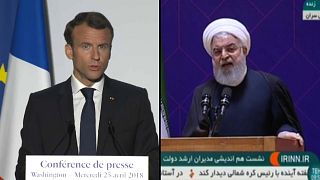 French President Emmanuel Macron and his Iranian counterpart, Hassan Rouhani, say they have agreed to work together over the next few weeks to preserve the 2015 Iran Nuclear Deal despite threats by U.S. President Trump that he will pull out of it.
Following an hour-long phone call between the two leaders, Macron also said he hoped to broaden the discussions to include Tehran's missile programmes, its nuclear activities beyond 2025 and the regional crisis in the Middle East.
The United States has been trying to drum up support for new sanctions against Iran, and has repeatedly threatened to tear up the agreement negotiated between six world powers.