El Morabity brothers dominate Marathon des Sables fourth stage
Comments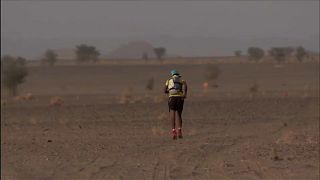 The El Morabity brothers, Rachid and Mohamed, dominated the concluding sections of the fourth stage of the 33rd Marathon des Sables on Thursday while Magdalena Boulay crossed the line first in the women's competition.
Morocco's Rachid El Morbaity won the long stage of the Marathon Des Sables on Thursday to continue his dominance of the grueling race in the Moroccan desert.
The fourth stage took competitors from North El Maharch to Jebel El Mraier and covers a huge 86.2km, with runners having to complete the stage within 35 hours.
El Morabity's brother Mohamed followed in behind his brother for the third stage in a row to claim second while France's Robert Merille claimed third.
American runner Magdalena Boulay bettered her two-second place finishes by taking the top stop in the women's race, while Natalia Sedykh had to settle for second and Denmark's Bouchra Eriksen came in third.
The combined distance over the six races is a massive 254km over six days with only one rest day.