Israel's UN deal: 16,000 African migrants to move to Western countries
Comments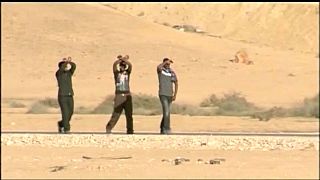 Israel says it has reached an agreement with the United Nations which lifts the threat of deportation for thousands of African asylum seekers to unnamed African destinations.
Under the deal, more than 16,000 migrants will be sent to Western countries willing to take them in.
Israel said the UNHCR will work with them to transfer at least 16,250 migrants. Other migrants, many of whom are seeking asylum, will be allowed to remain in Israel.
Prime Minister Benjamin Netanyahu named Canada, Italy and Germany as some of the nations that will take in the migrants.
He said that would enable the departure of a very large number of people — 6,000 — in the first 18 months.
In February, Israeli started handing out notices to 20,000 male African migrants, giving them two months to leave or risk being put in jail indefinitely.
The Africans, nearly all from dictatorial Eritrea and war-torn Sudan, say they fled for their lives and face renewed danger if they return.
Israel has said it considers the vast majority of the 35,000 to 40,000 migrants to be job seekers.