The former Catalan president fears for his safety if extradited to a Spanish jail
Comments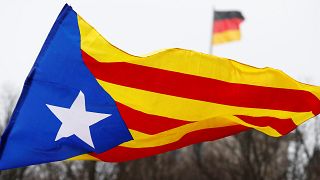 The former Catalonian president fears physical harm if he is sent to a Spanish prison.
Carles Puigdemont is still being detained in Germany awaiting a decision by a court Neumuenster on whether to extradite him to Spain to face rebellion charges over the region's drive for independence.
On Sunday a politician from the German Left party went to meet Puigdemont and then spoke to reporters.
"He is worrying to be brought back to the Spanish prison or jail," said Diether Dehm. "Because it's not clear if you would bet be violated. It's not clear if you would be tortured. And I think this is the point that he's really worried about."
The former president remains resolute in his vision for Catalonia, tweeting that jailed Catalan officials are political prisoners and that there is no possible return from the path towards a new era.
Around the detention centre in Germany some people found their own way of showing support. One poster written in German said: "freedom for the elected president."
Catalonia's parliament said on Wednesday (March 28) it supported Puigdemont's right to again lead the region while he awaits the German court ruling on extradition.