Italian anger at French border police intrusion over migrants
Comments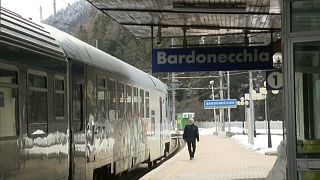 Italy's Foreign Ministry has summoned the French ambassador to explain why armed French border police entered a clinic that cares for migrants trying to cross the Alps.
Five officers burst into the facility in Bardonecchia and forced a Nigerian migrant to give them a urine sample for a drug test. The clinic is about 1km inside the Italian border. There have also been claims that staff working at the clinic, including doctors and lawyers, were intimidated.
Many politicians see the incident as a violation of Italian territory.
"I am disappointed because they cannot act this way, like bulls in a China shop, especially in a china shop that is not theirs," the Mayor of Bardonecchia, Francesco Avato said. "They can do their activities, they could do them in France, in other places and not in a facility dedicated to an extremely delicate work, as I already said, that must go on in peace."
The French goverment says the officials had asked for permission to enter the centre and were allowed in.
Migrants who have crossed the Mediterranean and arrived in Italy sometimes try to reach France by crossing the Italian Alps despite the snow, bad weather and terrain.