Fugitive ex-Catalan leader held by police in Germany
Comments
By Associated Press and Reuters with NBC News World News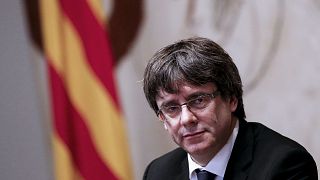 -
BERLIN — German police say fugitive former Catalan leader Carles Puigdemont is being held on a European arrest warrant.
Puigdemont's lawyer, Jaume Alonso-Cuevillas, confirmed to The Associated Press that German police stopped Puigdemont on Sunday when he was crossing the border to enter from Denmark. He says Puigdemont is at a police station.
Alonso-Cuevillas says Puigdemont was on his way back to Belgium where he has been staying since fleeing Spain following a failed bid by his regional government in October to declare independence from the country.
Puigdemont faces up to 25 years in prison in Spain on charges of rebellion and sedition for organizing an illegal referendum for Catalonia that led to the unilateral declaration of independence in October.
A Spanish Supreme Court judge reactivated an international arrest warrant for Puigdemont on Friday when he was visiting Finland.
Arrest warrants have also been issued for five other Catalan separatists.