Russian diplomats leave UK amid spy poisoning crisis
Comments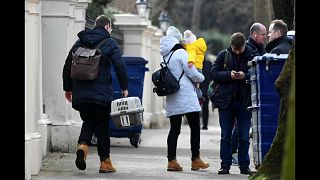 As 23 Russian diplomats and their families left Britain on Tuesday after being expelled over the nerve agent attack, the UK said it had taken action to track people who threaten its national security, including those using private flights.
As colleagues waved the group off, buses with diplomatic number plates left the Russian embassy compound in London.
It follows a formal send-off for them there on Friday, hosted by Russian ambassador Alexander Yakovenko.
The departure of the diplomats follows the arrival in the UK of inspectors from the world's chemical weapons watchdog. They are examining the poison used in the attack in Salisbury on former Russian spy Sergei Skripal, 66, and his daughter Yulia, 33, who remain critically ill in hospital.
A British policeman is still in a serious but stable condition.
The toxin has been identified as Novichok military-grade nerve agent by scientists at Britain's Porton Down military research laboratory.
Prime Minister Theresa May, who has blamed Russia, chaired a meeting of the National Security Council on Tuesday.
The UK is backed by the United States and European powers but newly-reelected Russian President Vladimir Putin maintains Moscow has been falsely accused.
On Saturday, Russia hit back by giving 23 British diplomats a week to leave the country as well as closing the British Council in Russia.
with Reuters