Turkey denies hitting Afrin hospital killing 16 people
Comments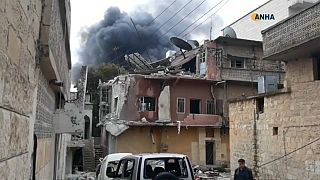 Turkey denies hitting an Afrin hospital in Syria, killing sixteen people, as huge crowds flee the kurd enclave.
But according to Syrian Kurdish forces, Turkish troops and allied rebels struck the main town.
More than 150,000 people, according to the Kurds, have left the town in the last few days uncertain of their future.
Geert Cappelaere, UNICEF Regional Director for Middle East and North Africa said, "Not a single day, not a single moment, in the past seven years have the fighting parties and those countries with influence over them shown the slightest respect for the sacred principle of the protection of children, where ever they are. They have not... they have not shown a single moment of respect for that principle."
The two offensives, one backed by Russia in Ghouta and the other led by Turkey in Afrin, have shown how Syrian factions and their foreign allies are aggressively reshaping the map.
Thousands of people from both enclaves but mainly from Ghouta, arrive in Adra, a few kilometres north east of Damascus.
Many more thousands are expected, who would be guaranteed food and medical help.
UNICEF have said it had response plans in place to cope with 50,000 people leaving eastern Ghouta.