Burkina Faso PM condemns twin attack
Comments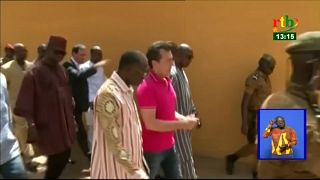 Burkina Faso's prime minister has condemned coordinated assaults by gunmen in the country's capital, Ouagadougou. Visiting the army headquarters, which was attacked along with the French embassy, Paul Kaba Thieba described Friday's violence as 'revolting'.
A Mali-based affiliate of al Qaeda was said to have claimed responsibility for the assaults, according to the Mauritanian news agency Alakhbar.
At least 16 people, including eight attackers, were killed in the city. 80 other people were wounded.
Video showed the Prime Minister and French ambassador to the country, Xavier Lapeeyre de Cabanes, inspecting damage to the army HQ and the French embassy.