Will Europe get another 31 year old leader on Sunday?
Comments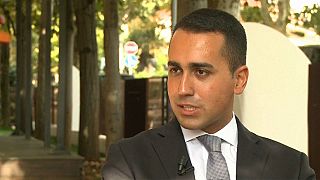 Luigi Di Maio is 31 years old and the youngest candidate to be Italy's next prime minister in Sunday's elections.
He also happens to be the candidate of the Five star Movement, the populist anti-EU party that threatens to upend the political status quo and scare the markets.
If he does win, Europe will be jolted by another youthquake following on from Austria who also elected another 31 year old, Sebastian Kurz, last year to be their Chancellor.
And before that it was France who elected 39 year old Emmanuel Macron.
Di maio was a website designer, a lawyer and a journalist before he became the youngest ever deputy speaker of the Italian Parliament at just 26.
His party was founded in 2009 by Beppe Grillo, who was at that time a scruffily dressed comedian. Grillo has always opposed the European Union and the euro and has even raised the idea of a referendum on leaving the EU.
Di Maio has taken a softer tone, saying it would only be held in extreme circumstances.
But if it were to happen and Italy pulled out of the euro it might put the currency's very existence into question.