Watch: first footage of massive breakaway iceberg
Comments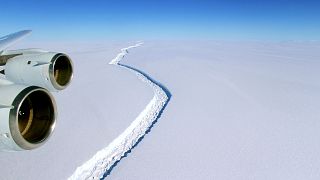 This is the first footage of a huge iceberg — four times the size of London — that broke away from an Antarctic ice shelf last year.
The iceberg, called A-68 and one of the largest ever-recorded, calved from the Larsen-C shelf in July 2017.
The British Antarctic Survey (BAS), who shot the footage in December last year, said A-68 covered an area of seabed measuring 5,818 square kilometres.
There is little consensus over whether the breaking away of the iceberg is linked to human-induced climate change.
Richard Alley, a glaciologist at Penn State University, said it was reasonable to link the event to global warming.
But others say it's a stretch to make that connection.
BAS is leading a team of scientists on an expedition to the region during which they will examine the marine life newly-exposed by the iceberg's breakaway.
Marine biologist Katrin Linse, from BAS, said: "The calving of A-68 provides us with a unique opportunity to study marine life as it responds to a dramatic environmental change.
"It's important we get there quickly before the undersea environment changes as sunlight enters the water and new species begin to colonise.
"We've put together a team with a wide range of scientific skills so that we can collect as much information as possible in a short time. It's very exciting."