'Three in custody' after shooting outside US spy agency headquarters
Comments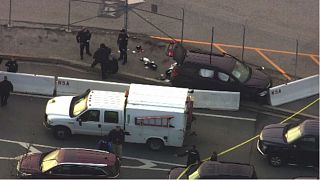 Several people were hospitalised after an incident outside the US National Security Agency's headquarters at Fort Meade, Maryland, on Wednesday, none of the injuries appeared to be from gunfire, said the NSA in a statement.
A Fort Meade spokesman confirmed that a main highway was closed near the facility, about 30 miles northeast of Washington.
Three people who tried to drive onto the campus of the NSA campus near Washington, drawing gunfire from guards, were taken into custody, Reuters reported.
The FBI's Baltimore office said it had sent agents to the scene and that the incident had been contained, adding that it had no link to terrorism. 
An NSA spokesperson confirmed that the situation was "under control," but did not offer any additional details.
"NSA police and local law enforcement are addressing an incident that took place this morning at one of NSA's secure vehicle entry gates. The situation is under control and there are no ongoing security or safety concerns," NSA spokesperson Chris Augustine said in a statement.
Earlier local media reports said that as many as three people had been wounded.
A video broadcast on CBS News showed a black sports utility vehicle parked near the entrance of the NSA with what appeared to be bullet holes in the front windshield. 
The vehicle was pictured at the end of a lane closed off by concrete NSA-stamped barricade blocks on one side and a metal fence on the other.
A White House spokeswoman said US President Donald Trump had been briefed on the incident.
In March 2015, two people tried to drive their sports utility vehicle through the NSA's gate. Officers shot at the vehicle when they refused to stop, killing one of the occupants. 
The people in the vehicle in 2015 may have taken a wrong turn after partying and taking drugs, according to news reports.