Winter Olympics: Kim Jong Un's sister meets South Korean President following opening ceremony
Comments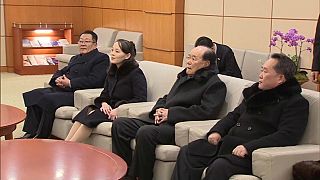 The sister of the North Korean leader, Kim Jong Un' has met South Korean President, Moon Jae-in, for a luncheon in Seoul after attending the Winter Olympics opening ceremony.
Moon is trying to use the Olympics as an opportunity to pull North Korea into meaningful talks over its nuclear programme.
Kim Yo Jong is the first member of her family to visit the South since the 1950-53 Korean War.
Earlier, the North Korean delegates briefly met South Korean officials, including Unification Minister Cho Myoung-gyon, before arriving in Pyeongchang.
Meanwhile U.S. Vice President Mike Pence, who arrived in South Korea on Thursday (February 8), met with North Korean defectors including a handicapped man who travelled 10,000 on crutches to escape.
Pence, who was accompanied by his wife Karen and Fred Warmbier, father of Otto Warmbier, the American college student who was held prisoner in North Korea and died shortly after he returned to the U.S. last year, praised the defectors for the 'courage.'
He paid tribute at a memorial for 46 South Korean sailors killed in 2010 in the sinking of a warship that Seoul blamed on a North Korean torpedo attack.
North Korea's ceremonial leader and Pence had their first face-to-face encounter at the opening ceremony in the Pyeongchang Olympic stadium.