Kenya's High Court suspends government's shutdown of three TV channels
Comments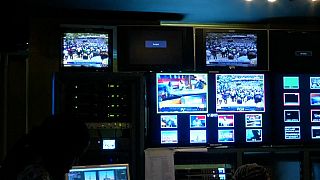 Kenya's High Court has suspended a government shutdown of three private TV channels that was prompted by their coverage of opposition leader Raila Odinga's self-proclaimed presidential inauguration on Tuesday, one of the channels reported on its twitter feed.
"Government expected to restore NTV, Citizen TV & KTN News signals after High Court suspends switch off for 14 days pending case being heard," NTV Kenya wrote on its official Twitter feed.
On Wednesday the interior minister said the channels would stay off the air indefinitely as the government investigates a "swearing in" of Raila Odinga, following the symbolic but direct challenge to President Uhuru Kenyatta.
Fred Matiang'i, who is also the minister in charge of security, accused some elements in the media of facilitating the "illegal act", putting lives of thousands of Kenyans at risk.
"The government took a decision to shut down the concerned media houses, until further notice, as it launches a full investigation," he told a news conference.
Odinga, whose supporters say he is Kenya's legitimate leader and Kenyatta's election was neither free nor fair, took a symbolic presidential oath at the ceremony.
Matiang'i said the opposition event was an attempt to subvert and overthrow the legally constituted government, adding they were also investigating the "swearing in".
"The investigations will extend to co-conspirators and facilitators," he said, promising appropriate legal action against those found culpable.
Police later arrested Tom Kajwang, an opposition lawmaker who administered Odinga's "oath of office", James Orengo, an opposition senator, told Reuters.
Kajwang, who represents a constituency in Nairobi and is a lawyer by profession, turned up at the opposition gathering in a white wig and a black robe, mimicking the official robes the chief justice wears when inaugurating a president.
On Wednesday dozens of protesters in the opposition stronghold of Kisumu took to the streets after hearing of the arrests.