New Zealand PM expecting first child
Comments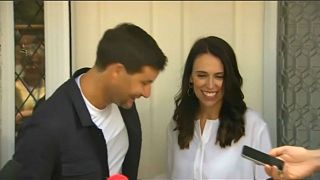 New Zealand's Labour Prime Minister has announced she will have her first baby in June. She and her partner, TV presenter Clarke Gayford, beamed as they broke the news to the press on their doorstep.
"I'm not the first woman to work and have a baby. I know these are special circumstances but there'll be many woman who would have done this well before I have."

New Zealand Prime Minister
The popular 37-year old leader found out about the pregnancy just days before she took up office in a coalition deal following a hard-fought election.
She says she will take just six weeks of maternity leave, leaving the business of running the country to her Deputy, Winston Peters. Her partner is expected to be a stay-at-home dad.
Speaking about the challenge she faced, Ardern said: "I am by no means the first woman to multitask and in terms of being a woman in politics, there are plenty of women who carved a path and incrementally have led the way to be able to make it possible for people to look upon my time in leadership and think, yes, I can do the job and be a mother."
She's breaking new ground, as very few elected leaders have given birth whilst in power. Benazir Bhutto had a baby when office in Pakistan in 1990.