Mauritius on high alert ahead of cyclone Berguitta
Comments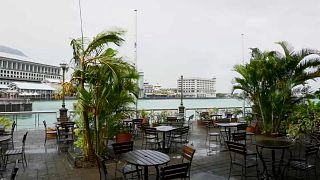 Mauritius is bracing itself for the arrival of a tropical cyclone that is headed its way.
Strong winds which could produce gusts of up to 120 km per hour are already being felt from category 3 Cyclone Berguitta.
Thousands of residents have flocked to government storm shelters as the island raised its alert.
Pravind Ruggoo from the National Disaster Risk Reduction and Management Centre:
"The population should not go into risky areas, areas where there are landslides, accumulations of water and also areas that are prone to flooding."
Many residents fear Berguitta will cause extensive damage when it makes landfall due mid- Thursday morning local time before it goes on to hit its nearest neighbour Reunion Island.
The islands vegetable farmers have already reported their fields have been flooded and about 300 households are said to be without electricity.
The last major cyclone to hit Mauritius was in 1994 and it killed two people.
Reporting for AfricaNews Yasine Mohabuth:
"Mauritians are asked to stay safe. Emergency services are on alert with the closure of the airport and the port. Since this morning Mauritius is somewhat cut off from the world."