Ten workers killed as bridge in Colombia collapses
Comments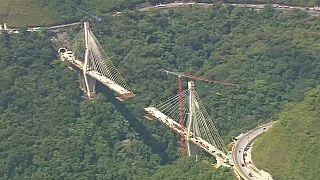 Ten workers have died after a bridge they were working on outside Colombia's capital city collapsed.
Officials say they'd been fixing drainage on the partially-built structure before it fell apart into the canyon below.
Five others were injured and there are fears more workers could still be missing.
One construction worker recalled suddenly hearing a loud noise, before the cable cars going up to the bridge started to give way with smoke everywhere and everyone ran to evacuate.
The bridge had been built around 60 miles outside Colombia's capital Bogota.
Transportation Minister German Cardona flew over the site of the collapse later on Monday and visited rescue staff on the ground with Dimitri Zaninovich, the head of the national infrastructure agency.
Nine people were killed at the scene and the 10th died after being taken to a nearby hospital with severe injuries.
An investigation is underway to find out what caused the tragic accident.