Train services to the stranded Swiss ski resort of Zermatt resume
Comments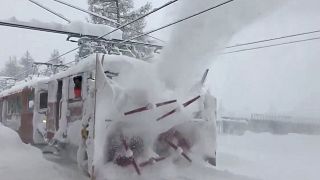 Rail services to 13,000 visitors and residents in the Swiss ski resort of Zermatt have finally resumed after being halted for two days due to heavy snow and risk of avalanche.
The Matterhorn Gotthard Bahn train was able to ease out of Zermatt station after teams cleared huge snowdrifts that built up on the tracks in after over a metre of snow fell in just 24 hours covering railways and road.
Although used to winter weather, on this occasion the local authorities had to bring in extra help to get people moving again.
"The piles of snow were artificially blown up to secure the tracks," said Zermatt's mayor Romy Biner-Hauser. "But the snow buried more than expected. And for that heavier machinery was needed. It needed to be brought to work on the tracks." Local officials had initially hoped to get trains moving earlier, but the timetable was delayed after helicopter crews spotted a new snow mass left over from an avalanche days earlier. The choppers spent the last two days ferrying people to lower ground.
Other people had to stay and stick it out, stocking up on food and virtually clearing the shelves of local stores, not knowing when the transport links would reopen. Switzerland's avalanche institute, SLF, lowered the avalanche risk from the highest level, five, to four early on Wednesday.