Despite FARC disarmament last year, violence continues in Colombia's abandoned zones
Comments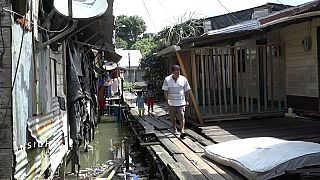 Poor and isolated: Quibdó, in the northeast of Colombia, is one of the regions most affected by the 52-year-conflict between the Revolutionary Armed Forces of Colombia and the government.
One year after the peace agreement, war still remains for local communities in the capital of the Department of Choco.
Despite FARC's disarmament last June, Diomedes Isarama fled in October when his son, Aulio, an indigenous leader, was killed.
Another guerrilla, from the National Liberation Army, ended his life.
" We were frightened because they killed our son. People here say they are going to kill everyone. That is what we hear." said Diomedes Isarama.
The ELN admitted it was an individual error and apologised, but the Government considers it a violation of the truce signed last October that's due to be renewed in January 2018.
All Diomedes family went into exile after Aulio's killing....
"We survive, we have accommodation, but sometimes we eat only once a day." Mr Isarama said.
The re emergence of violence in the zones abandoned by FARC are estimated to have sparked 55.000 forced displacements in 2017.
10.000 where in Chocó alone, where 80% of the population are poor.
New and established guerrilla groups, criminal gangs and paramilitary organisations have all sought to fill the void left by FARC since it laid down its arms.
These groups are now pushing into regions that the FARC formerly held andurban violence is forcing more and more people into exile.
"They told me that they were not threatening me, but I realised that one of the neighbourhood boys was going to end my life." said Natalia Machado.
"They knocked on my door. And I could hear them saying that if they'd caught me - they would have beaten me."
The only reason she fought to survive was to prevent her son from being recruited.
"It is hard because you always see boys selling drugs, standing in the corners. Cashing extortions." said Natalia Machado.
"Everything is real. It is very difficult because there are invisible barriers that you cannot cross because if you do, you risk your life."
Natalia left her job and now fights to maintain a stable life for her son.
" Economically I am struggling. We are in a very vulnerable situation. If we have breakfast we do not have lunch. If we have lunch we do not have dinner. One meal a day. That's our situation."
Whilst the level of violence has generally gone down, following the Colombian Peace Pact, killings are more targeted.
Social activists as well as a number of indigenous people have been the victims these murders.
The UN say at least 80 leaders were killed last year, with a disproportionately high amount in areas where the FARC had been the most active.