Six people dead after tourist seaplane crashes in Sydney
Comments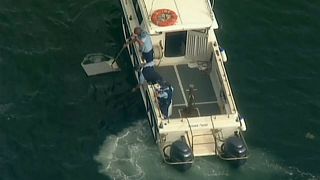 Six people have been killed after a seaplane crashed into a river in Sydney, police say, ahead of New Year's Eve celebrations in the city's harbour.
The aircraft, operated by Sydney Seaplanes, was carrying a pilot and five passengers on a sightseeing flight.
Police confirmed all six people had died but said they did not yet know their identities nor why the plane crashed.
Several Australian media reported that four of the victims were British nationals, although that was not immediately confirmed by police. In London, the Foreign Office said its officials were in contact with local authorities in Sydney.
Several visiting celebrities have flown on the operator's sightseeing planes, including pop stars Ed Sheeran and Sam Smith, tech mogul Bill Gates, comedian Jerry Seinfeld and actor Cuba Gooding Jnr.
Police said the seaplane was returning the party of five people from a waterside restaurant in Sydney's north to the Sydney Seaplanes headquarters in Rose Bay in the city's east when it crashed into the water, immediately sinking.
Acting Superintendent Michael Gorman, from New South Wales Police, said: "A sea plane was flying west over the Hawkesbury River for reasons that are not known at this stage.
"The plane has hit the water and it has subsequently sunk. It is sitting in approximately 13 metres of water.
"At the time of the collision the plane had a pilot and five passengers on board. I can confirm the six people on the plane are deceased.
"Police are in the process of recovering the bodies from the plane."