Kuczynski clings on but Congress gives green light to impeachment vote
Comments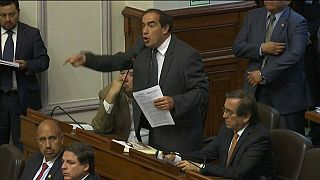 Peru's Congress, where the opposition holds enough seats to win a vote, has taken the first step towards impeaching the country's president, filing a motion for a December 21 vote.
Centre-right President and former Wall Street banker Pedro Pablo Kuczynski is refusing to resign in the face of corruption allegations.
"First, what the council of spokespeople has done is put this on the agenda unanimously. I repeat: unanimously, to address the motion of vacancy for the president presented by different parliamentary groups, especially the Frente Amplio (Broad Front)." said the President of the Peruvian Congress, Luis Galarreta.
Kuczynski says he wants to fight on and clear his name but he knows the likelihood of surviving an impeachment vote is low.