Pope Francis says "Rohingya" on last day in Bangladesh
Comments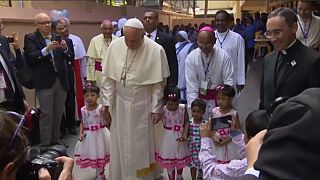 Pope Francis finally used the term "Rohingya" in an emotional encounter with muslim refugees from Myanmar.
The meeting came on the last day of his visit to Bangladesh.
"In the name of all those who have persecuted you, hurt you, I ask forgiveness," Pope Francis told the Rohingya refugees.
When in Myanmar itself on an earlier stage of his trip, the Pope caused controversy by studiously avoiding use of the term "Rohingya". He had been advised by Church leaders in the country that to do so would inflame tensions and place the Catholic population in jeopardy. Human rights groups, such as Amnesty International, expressed disappointment at the omission.
Following in Mother Theresa's footsteps
Earlier the same day, Pope Francis had visited a home for the outcast, destitute and orphaned in Dhaka, that had originally been established by Mother Theresa as a home for unmarried mothers.
He was flocked by children and nuns wearing the characteristic blue-and-white habit of the Saint.
In an impromptu address he praised Bangladesh for having some of the best inter-religious relations in the world. Catholics make up less than 1 per cent of the population there.