Cairo vigil for victims of mosque attack
Comments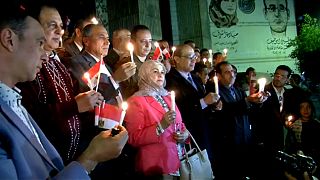 Carrying candles and flags, dozens of journalists came to remember the victims of Egypt's recent terrorist attack.
The assault on the al-Rawda mosque in Northern Sinai killed 305 people – the worst terrorist attack in the country's modern history.
"This is a symbolic message we want to send to the Egyptian people," said Abdel-Mohsen Salama, head of the Egyptian press syndicate. "We are united against terrorism and will keep rallying and supporting our armed forces in the fight against terrorism."
Survivors say attackers carried the flag of the so-called Islamic State. The al-Rawda mosque is frequented by Sufi Muslims, a mystic school of Islam that militants consider heretic.
The government has increased security at places of worship and key buildings and called for three days of national mourning.