A new beginning for Cosa Nostra mafia?
Comments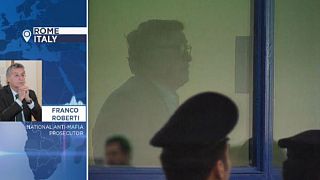 Even after decades behind bars, Sicilian Mafia boss Salvatore Riina was considered a formidable figure. But rather than laying a murderous chapter in history to rest, his death seems likely to breathe new life into Cosa Nostra, as Italy's National Antimafia Proseutor Franco Roberti told euronews. He spoke to euronews journalist Salvatore Falco on his last day in the job before retiring from a career spent seeking justice.
"Riina was still the recognised leader of Cosa Nostra because, according to the rules of the organisation, the boss is in charge until his death. So he was still the head of Cosa Nostra. This does not mean that he had an operative role, because since his capture, in January 1993, and was forbidden most contact with the outside world, he was unable to give orders to the organisation, to direct it", he said.
So, who will take the reins, now that Riina is gone?
"It's probably being decided at the moment. Of course, we can't rule out violence, but we will monitor all events in the near future. But Riina's legacy will not be continued by someone with the same strategy of detonating bombs," said Roberti.
When asked about the kind of funeral expected, Roberti said: "I would think it will be a private funeral, closely guarded by the police."