German chancellor in crunch coalition talks
Comments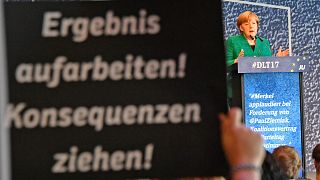 Immigration is high on the agenda as Germany's Angela Merkel holds crunch coalition talks with her Bavarian conservative sister party, the CSU.
The CSU, led by Horst Seehofer, blame Merkel for the decision in 2015 to keep Germany's borders open resulting in almost one million people arriving in the country that year.
Unconfirmed reports say the two parties have agreed on the divisive issue of a refugee cap. If so, this would remove a hurdle to coalition talks with other parties.
The CSU's combative leader Seehofer is fighting for his political survival after a poor election performance which saw the party slump to just over 6 percent nationally from nearly 7.5 percent in 2013.
A weakened Merkel, in power since 2005, aims to build a nationally untested coalition between her conservative bloc andthe pro-business Free Democrats and the environmentalist Greens who are far apart on issues from tax and energy toEurope.