Thousands greet Pope Francis in Colombia
Comments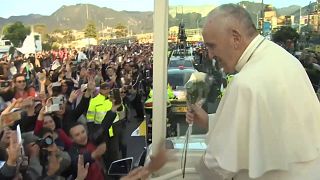 Thousands gathered in Colombia's capital, Bogota, to greet Pope Francis as his popemobile wound its way through crowded streets. At times security struggled to contain wellwishers as they surged forward to try to touch the Pontiff's hand.
Dear Friends, please pray for me and all of Colombia, where I will be travelling for a journey dedicated to reconciliation and peace.

— Pope Francis (@Pontifex) September 5, 2017
Children presented him with a "ruana", a poncho-like garment worn by the poorest peasants in the Andes.
Speaking in Spanish, the Pope said:"Thank you so much for the way you've been encouraged to behave. This is called heroism, and even the youngest can be heroes. Young people can be deceived or wrong, but they pick themselves up and move on with smiles on their faces. Keep going!"
The Pope supported Colombia's peace-deal, brokered after over half a century of guerilla warfare, but will have to tread carefully as many of the country's Catholics opposed the settlement.