Pope Francis urges Colombia to stay on the path of peace
Comments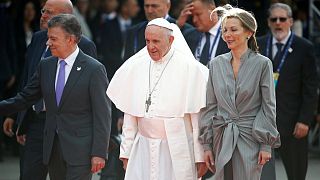 Pope Francis spent his first full day in Colombia urging President Juan Manuel Santos and other political leaders to avoid vengeance following the country's decades-long civil war.
The overwhelmingly Catholic country is deeply polarized as it prepares to receive former guerrilla fighters into society after signing a long-awaited peace accord in November.
Speaking in the courtyard of the presidential palace, Francis congratulated Colombia's leaders for moving toward peace. "This event gives me the opportunity to express appreciation for the efforts made, throughout the past decades, to end the armed violence and find paths of reconciliation."
Francis later addressed a raucous crowd of young people in Plaza Bolivar. His message to them: teach your parents to look to the future without the burden of hate.
After Bogota, Francis will visit Villavicencio, Medellin and Cartagena before leaving for Rome on Sunday night.