Elephants rescue tourists in flood-hit Nepal
Comments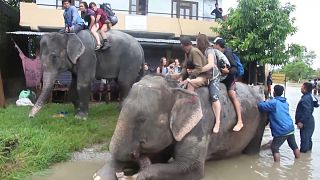 Elephants have been helping to rescue tourists stranded in Nepal amid the country's worst rains in more than a decade.
More than 250 people are reported dead in flooding and landslides in India, Bangladesh and Nepal, with the Himalayan nation the worst hit.
Hotels brought in the big beasts to carry holidaymakers to safety.
Elephants help rescue tourists stranded by Nepal floods pic.twitter.com/lOWZRowX3S

— The Telegraph (@Telegraph) 16 août 2017
But for Nepal's citizens, the long-term impact of the disaster is devastating, with thousands of homes destroyed.
"We will now focus more on rescue of those trapped in floods and relief distribution. People have nothing to eat, no clothes. So we have to provide them something to eat and save their lives," said Nepali police spokesman Pushkar Karki.
Our thoughts with children & families affected by #Nepalflood +landslides. Immediate relief underway: hygiene kits, H2O purifiers, bednets.. pic.twitter.com/xrOQEepIep

— UNICEF Nepal (@unicef_nepal) 12 août 2017
The country is still recovering and rebuilding after huge earthquakes two years ago left 9,000 people dead.
Monsoon rains start in June and continue through September.
They are vital for farmers in Nepal, India and Bangladesh but cause loss of life and property damage every year.
with Reuters