Children with heart disease enjoy specialised summer camp
Comments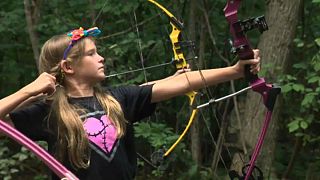 At the "Heart Heros" summer camp children with heart disease, who might not otherwise get the camp experience, can enjoy being kids.
Based in Northwest Canada the camp was "created to promote independence among campers, provide them with a safe setting to socialise with their peers and allow them to discover they aren't alone".
Zip lining and water fight are just two of the activities children can enjoy, while medical professionals are close to hand for their safety.
"It makes me happy and I like playing with the kids and I enjoy it," said Miguel Acupan, a camper.