London jogger pushes woman into path of bus
Comments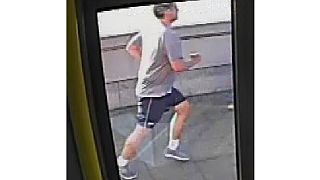 Video released today (August 8) by the UK's Metropolitan Police shows the moment a London jogger pushed a woman into the path of an oncoming bus.
The incident, which occurred on Putney Bridge, saw the unidentified man knock the 33-year-old victim into the road where a bus narrowly missed her.
After the bus came to a halt passengers rushed to the woman's aid.
She received minor injuries from the incident.
The jogger is yet to be identified and police are appealing for witnesses to the incident.
Sergeant Mat Knowles, the investigating officer from Putney Safer Neighbourhood Team, said that it was only "due to the superb quick reactions of the bus driver that she (the victim) was not hit by the vehicle".