Now Reading:
Poland protests this time with candles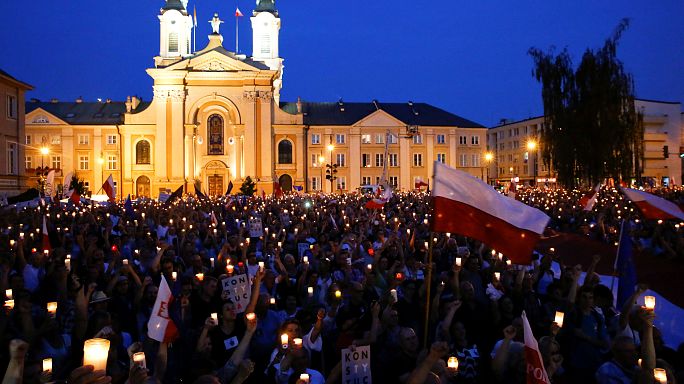 Poland protests this time with candles
Tens of thousands of protesters gathered across Poland for candle-lit vigils after senators of the right-wing Law and Justice (PiS) party agreed in the early hours of Saturday to a bill that would remove all Supreme Court judges except those hand-picked by the justice minister. Protesters demanded President Andrzej Duda, a PiS ally, veto the bill.
An opinion poll for private television TVN showed on Friday that 55 percent of respondents said Duda, who went on holiday despite the crisis, should veto the judicial overhaul, while 29 percent wanted him to sign it.
nytimes</a> <a href="https://twitter.com/NPR">npr BBCWorld</a> <a href="https://twitter.com/nprpolitics">nprpolitics davidfrum</a> <a href="https://twitter.com/nytimesworld">nytimesworld A peaceful protest tonight in Krakow over Poland's constitutional crisis. pic.twitter.com/yfqSLXPNC1

— Bhadri (@bhadridass) July 19, 2017
The overhaul of the judiciary, coupled with a drive by PiS to expand its powers in other areas, has provoked a crisis in relations with the European Union and sparked one of the biggest political conflicts since Poland overthrew communism in 1989.
Hundreds of protesters gathered at the Warsaw villa of PiS head Jaroslaw Kaczynski, Poland's de facto leader, who holds no government post but is a member of parliament.
One of them brought cat-shaped balloon in reference to Kaczynski's love of cats. He lives alone with only a cat for company. Peaceful demonstrations continued on Saturday evening in dozens of cities, including Warsaw, Krakow and Poznan.
In front of Kaczyński's home this evening: anti-government protest and pro-government counter-protest 😂😂😂😂 pic.twitter.com/bCsn4Hu2sy

— Exen 🇵🇱 (@Exen) July 22, 2017