Cows or women: who are more important?
Comments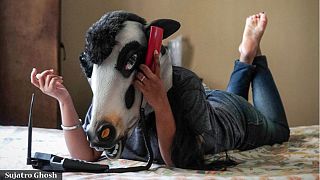 A photographer has sparked a controversial debate in India by snapping women wearing latex cow heads.
Sujatro Ghosh wants people to consider whether the cow – sacred to Hindus, who make up 80 percent of India's population – has more rights than women.
It has been prompted by the emergence of vigilante cow-protection mobs, who have been murdering Muslims over suspicions they have been eating beef.
Human Rights Watch says vigilantes are linked to extremist groups affiliated with the ruling Bharatiya Janata Party.
It comes at a time when sexual violence in India is under scrutiny following the gang rape and murder of a student on a Delhi bus in 2012.
Attacks continue to be reported: earlier in June it was alleged a 16-year-old was gang-raped and thrown from a train in the northern state of Bihar.
"My series uses a simple latex cow to unpick the debate raging across India about how to protect the sacred animals, while women's safety is neglected and sexual violence rises," wrote Ghosh, 24, originally from Calcutta. "I started the photo series to highlight the need for making the streets a safe space for women, not just the cow."
Ghosh is now looking for funding to take the campaign across India. You can contribute to his campaign here.