Muslims march against extremism in Cologne
Comments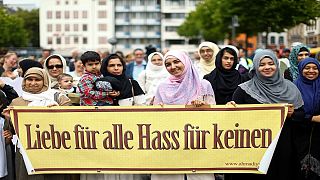 Several hundred Germans. most of them Muslims, held a peace march in Cologne on Saturday in protest at the number of deadly Islamic extremist attacks that have hit Europe recent years.
The protesters marched under the slogan "Not with us."
Today hundreds of Ahmadi Muslims march for peace in Cologne holding banners with their slogan 'Love for all, Hatred for none'. #NichtMitUnspic.twitter.com/IAffmXkYfG

— Islam – Ahmadiyya DE (@AhmadiyyaDE) June 17, 2017
"I am from a Muslim family and I don't want people to say in our name who is a believer and who is not. And I certainly don't want people killing in my name," one woman said.
"Most of the victims of Islamist terror are Muslims themselves, and then they have to justify themselves and say 'no, I'm not a terrorist," another said.
The turnout was far fewer than the tens of thousands the organisers had expected – Germany's biggest Islamic association had said earlier in the week that it wouldn't take part in the march.
The Turkish-Islamic Union said the march would send a wrong signal by suggesting international extremism is mainly a Muslim problem.
The union, known by its acronym DITIB, also said Muslims observing the Ramadan fast couldn't be expected to march for hours in the summer sun.
Germany's worst attack was in December 2016 when a failed asylum-seeker and supporter of Islamic State from Tunisia rammed a truck through a Christmas market in Berlin, killing 12 people.