Brexit boom as number of Brits given German citizenship soars
Comments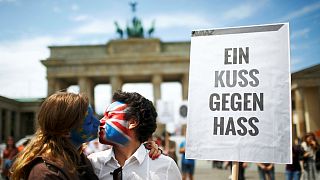 The number of Brits granted German citizenship has rocketed by 360 percent since the Brexit vote, it's emerged.
A record 2,865 British citizens were naturalised in Germany in 2016, up from just 622 the previous year.
Destatis, Germany's Federal Statistical Office, said British naturalisations were at their highest-ever levels and the increase was likely linked to last year's Brexit referendum.
There are around 115,000 Brits living in Germany, according to the British in Europe group.
Overall, 110,400 foreigners were given German citizenship in 2016.
Turks made up the biggest group, with more than 16,000 naturalisations.
Destatis said Germany's naturalised population was, on average, 33 years old and had been living in the country for 17 years.