The British Prime Minister Theresa May praised the good work of the emegency services following the Manchester attack, which occurred at the end of an Ariana Grande concert
In addition, the hashtag #RoomForManchester was trending on social media following the deadly explosion, with locals offering beds, food and rides to those in need.
But there was another darker side that emerged as social media was swamped with misleading reports of missing children.
One post in particular was a collage that showed 25 young men and women who were supposed to be missing following the concert. It was retweeted more than 14,000 times.
#Manchester please spread the word to find all these people! my thoughts are with them💜 pic.twitter.com/GPQvUbA1Vr

— caroline💞 (@actlikeyouluv) 23 mai 2017
It was soon exposed to be a fake. The mother of Gem Devine, Rachel, was surprised to see pictures of her daugher being circulated on the collage as missing when she was, in fact, safe at school.
The Melbourne mum told the Hit Network in Australia: "I have no idea who stole her image or why. My thoughts are with those who are actually searching for loved ones."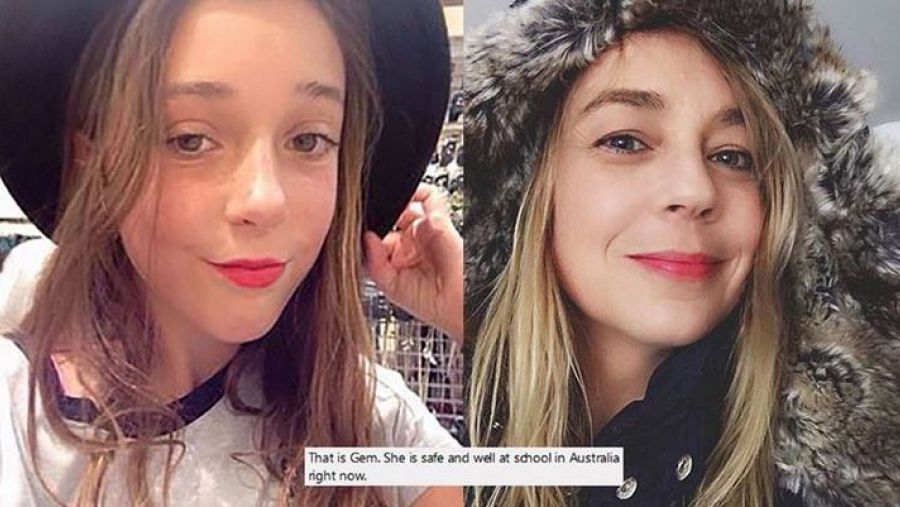 It was soon backed up by Twitter user @FluffyGrande who confirmed that the tweet was fake.
THIS IS ME. I AM FINE. PLEASE RT. I SAW MY FACE IN 2 MISSING PEOPLE POSTERS !! THANKYOU SO MUCH FOR CARING THOUGH pic.twitter.com/IWI1vZ4ANF

— Han better days ☁️ (@FIuffyGrande) 23 mai 2017
Youtuber The Report of the Week was also in the collage and he immediately shared a video saying that he was alive and well.
The twitter account owner, Caroline @actlikeyouluv, who posted the collage, claims she was simply retweeting a tweet that she herself saw online.
But while trolls and fake accounts shared false photos and fake news, others used the web to help reunite friends and families.
Alaya Ryan was found unharmed following pleas from friend Zelie Grey.
PLEASE HELP SEARCH FOR ALAYA RYAN! Family is worried sick. We have had no contact from her. Has anyone seen her? #Manchester pic.twitter.com/VK5dPicKfa

— zelie grey (@zeliegrey) 23 mai 2017
zeliegrey</a> ALAYA HAS BEEN FOUND SAFE!!! Myself and my family send all of our love for the prayers/help we received. You&#39;re all incredible ❤️</p>&mdash; zelie grey (zeliegrey) 23 mai 2017
And it was the kindness of strangers who won the day by offering beds, food and car rides for those affected by the blast.
I live in sale close to the arena, I'm free to pick anyone up! I have a spare room and I can drive people home !! #RoomforManchester

— Demi❤️ (@DemiMatherx) 23 mai 2017
MENnewsdesk</a> I have a sofa, floor, blankets and tea, 5 minutes from Arena for anyone in need <a href="https://twitter.com/hashtag/RoomForManchester?src=hash">#RoomForManchester</a></p>&mdash; Rebecca Topham (rebeccatophamx) 23 mai 2017