MotoGP rider Nicky Hayden dies from his injuries
Comments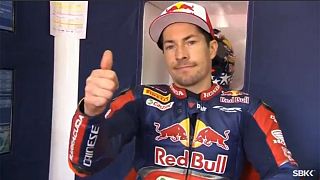 World Superbike rider Nicky Hayden has died from his injuries in Cesena, Italy.
The MotoGP rider was cycling along the Rimini coastline, north east Italy, when he was hit by a car a week ago.
The 35-year-old suffered head and chest injuries and was treated in intensive care.
Hayden had been competing in the World Superbike Championship with Red Bull Honda.
He won the 2006 Moto GP championship. In doing so he edged out Valentino Rossi to the title, ending the Italians run of five straight championships.
Rossi paid tribute to Hayden describing him as one of the best friends I've ever had in the paddock