One person died and several people were injured when a car crashed in Times Square, New York City, on Thursday, May 18.
US Navy veteran Richard Rojas was detained after the car he was driving ploughed into pedestrians in the packed tourist hot spot.
The 26-year-old has been charged with murder in the second degree, aggravated vehicular homicide and multiple counts of attempted murder, police report.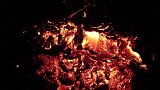 Time-lapse video captured lava oozing from Kilauea Volcano in Hawaii on Friday (19 May).