About 2,000 protesters gathered in the capital of the Former Yugoslav Republic of Macedonia on Friday to demand new elections they hope will break the country's political deadlock.
The peaceful protest was held outside the European Union mission in Skopje a day after violent protests inside the country's parliament.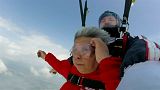 A 70-year-old grandmother has become an internet star in China after she took up skydiving.