Portugal celebrates Carnation Revolution, warns against populism
Comments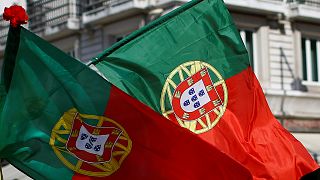 Portugal marked the 43rd anniversary of its Carnation Revolution on Tuesday, with top left-wing politicians calling on the European Union to stem the tide of populism by caring more about citizens' well-being.
On April 25, 1974, a military uprising ended nearly half a century of dictatorship in Portugal. After flower vendors handed out seasonal blooms to the soldiers, it became known as the Carnation Revolution – an almost bloodless uprising that remains a source of immense pride in this country of 10 million.
"Populisms feed on the deficiencies, slowness, incompetence and irresponsibility of political power," said Portuguese President Marcelo Rebelo de Sousa. He said politicians should focus their efforts on ensuring a better future for young people.
Holding a red carnation, the Portuguese head of state joined a solemn session in parliament. Prime Minister António Costa and former President Ramalho Eanes were also present.
Festejamos Abril no Parlamento com a sessão solene comemorativa do #25deAbril na Assembleia da República. pic.twitter.com/9CbpfbzXa0

— António Costa (@antoniocostapm) April 25, 2017
Some lawmakers seized on the commemorations to call on the European Union to fight the resurgence of populism by focusing not only on the economy, and more on social well-being, the EFE news agency reported.
MP Alberto Martins, of the ruling Socialist Party, urged "a more democratic, more transparent European Union that subordinates economic power to political power."
Joana Mortágua of the Left Bloc, one of the government's coalition partners, warned that "the danger is the resurgence of austerity" in the country, which was one of the hardest hit by the eurozone debt crisis.
President de Sousa was set to posthumously decorate Francisco Sá Carneiro, the founder of the Portuguese Social Democratic Party in 1974 and later became prime minister.
In Portugal, #25Abril is about Freedom & Democracy. In today's world, these are more important than ever. https://t.co/LFSJnULrVnpic.twitter.com/aBOP3CnbKa

— Paula Salgado (@pssalgado) April 25, 2017
Most of Tuesday's commemorations, however, happened outside of parliament – with the traditional People's Parade on Avenida da Liberdade, in Lisbon, and public readings of poems by Manuel Alegre. Among the special events this year in Lisbon is the inauguration of a sculpture by artist Vhils and an exhibition dedicated to José "Zeca" Afonso (1929-1987), the author of the Carnation Revolution's anthem, "Grândola, Vila Morena".
An almost bloodless revolution
Shortly after midnight on April 25, 1974 army rebels drove tanks into the centre of Lisbon and took over the city's main bridge, airport, radio and television channels.
Prime Minister Marcello Caetano surrendered and by dawn, the Movement of the Armed Forces, or MFA, was in control. It promised to restore civil rights and hold general elections as soon as possible. A junta led by former deputy armed forces minister General Antoniio de Spinola would oversee the transition to democracy.
The BBC reported at the time that up to six civilians were killed after shots were fired from the headquarters of the police station – and soldiers responded by storming the building. Those were the only lives claimed in this peaceful coup.
On the streets, jubilant crowds welcomed Spinola and his troops as heroes, handing them cigarettes, food, newspapers and carnations, which were in full bloom at the time. The April 25 coup became known as the Carnation Revolution. It brought down Europe's longest-lived dictatorship, heralded the end of the last colonial empire in Africa and paved the way for Portugal's accession to the EU in 1986.
Over the following years, Guinea-Bissau, Mozambique, Cape Verde Islands, Sao Tome and Principe, and Angola all became independent. Spinola served briefly as interim president and was succeeded by General Francisco da Costa Gomes. Portugal nationalised large swathes of the economy, carried out a major redistribution of land, abolished press censorship and freed hundreds of political prisoners. Over the course of the following decade, a stable two-party system was established.
Portugal now celebrates Freedom Day as a national holiday each year on April 25.
Even at the Euronews headquarters in France, Portuguese journalists handed out carnations to their colleagues to mark the day.
It's the 43rd anniversary of #Portugal's #carnationrevolutionpic.twitter.com/TanvW3Tlqj

— Duncan Hooper (@DuncanHooper) April 25, 2017