Budapest 'March of the Living' commemorates Hungarian Jews killed in the Holocaust
Comments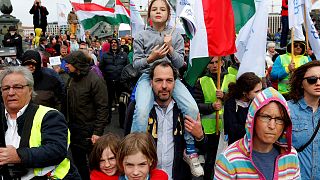 Thousands of people took to the streets of Budapest for the 'March of the Living' – an event to commemorate the 550,000 Hungarian Jews killed in the Holocaust.
It was held on Hungary's Holocaust Memorial Day which marks the mass detention and deportation of Hungary's Jews in 1944.
Speakers warned of the dangers of rising anti-Semitism and stressed the importance of remembering and learning the lessons of the past.
The event began at the 'Shoes on the Danube' memorial, which honours people, mainly Budapest Jews, shot by militiamen. They were ordered to take off their shoes and stand by the water before being shot so their bodies were carried away. Only their shoes remained.