Britain's Queen Elizabeth and her husband Prince Philip fed an elephant bananas to the apparent delight of the herd.
Elizabeth, who is patron of the Zoological Society of London (ZSL), and Philip met Donna, one of a nine-strong Asian elephant herd at the Centre for Elephant Care at ZSL Whipsnade Zoo, outside London.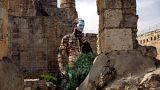 The iconic Tower of David in Jerusalem's Old City is getting a splash of colour.