Argentina: police and protesters clash during general strike
Comments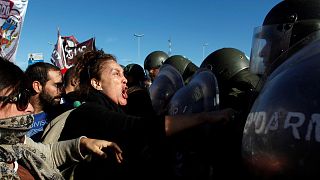 Protesters in Argentina have clashed with police during demonstrations against government austerity measures.
Security forces used high-powered water cannon and tear gas to control picketers who had blocked the Pan-American Highway in Buenos Aires.
The violence erupted during a general strike, the first since President Mauricio Macri took office 16 months ago.
Left-wing politician Alejandro Bodart said:
''Macri will open the World Economic Forum and economists from around the world will come— they are all neo-liberal. There will also be business leaders who will come to discuss how to continue stealing the riches of our people, how to continue with plans to exclude one section of society so as to enrich the same old ones."
Away from the clashes and industrial action Macri was addressing the World Economic Forum in Argentina's capital.
Mocking those who'd decided to walk off the job Macri said: "Good morning, welcome everyone. It is great that today we are here, working.''
The one day strike action over cuts to government spending and rising prices saw transport services grind to a halt.
Teachers, factory workers and other important public sector employees also took part in the walkout.