Berlin rejects parallel trade talks with Britain during Brexit negotiations
Comments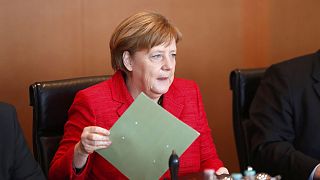 German Chancellor Angela Merkel has appeared to harden her stance on Brexit, ruling out Prime Minister Theresa May's plan for trade talks alongside the UK's negotiations to exit the bloc.
May had called for discussions on a trade deal between the EU and UK at the same time as ''Article 50'' talks.
Insisting divorce terms would be need to be thrashed out first, Merkel called for all sides to protect the lives of EU citizens living in Britain.
"For many people in Europe, Great Britain's intended departure from the EU is connected to very concrete worries about their own personal future. This goes especially for many Germans and European citizens living in Great Britain. Therefore, the German government will work intensively to make sure the effect on the everyday lives of those people is as small as possible," Merkel said.
On the streets of Berlin, those asked about the UK's decision to trigger the Brexit process, seemed to think it would not have a significant impact on their lives.
"It doesn't worry me but it will have an impact on the economy, although the German economy as well as the everyday German on the street is strong enough to cope with it," one man said.
"The UK always had special status in the EU but I don't really think it is going to be so dramatic for us. For the Brits, and I have friends over there, and the Scots it is going to be more critical," one woman said.
The mood in Berlin appears to run counter to hopes in London that Germany would go easier on the UK because of pressure from powerful German car industry.