UN talks for a worldwide ban on nuclear weapons get limited support
Comments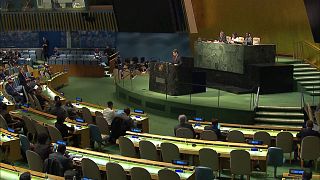 Almost forty countries were notable by their absence at the United Nations on Monday when talks began on a new treaty to enforce a worldwide nuclear ban.
Is there anyone that believes that North Korea would agree to a ban on nuclear weapons?

US ambassador to the United Nations
The US, Britain and France were among the absentees – they all said the Non-Proliferation Treaty was more realistic.
Around 120 others did turn up. Supporters of the potential pact say it's time to push harder toward eliminating atomic weapons than nations have been doing through the nearly 50-year-old Nuclear Non-Proliferation Treaty.
"The continued existence of nuclear weapons still poses yet another existential threat to humanity. The need for progress in nuclear disarmament has rarely been as urgent as it is today," said UN Under-Secretary for disarmament, Kim Won-soo as the talks opened.
Negotiations to ban nuclear weapons begin, but Australia joins US boycott #CND#auspolhttps://t.co/omYFhpha3M

— Scott Nelson (@SocialistVoice) March 27, 2017
But US envoy Nikki Haley said national security required nuclear arms because of "bad actors" who could not be trusted.
"There is nothing I want more for my family than a world with no nuclear weapons. But we have to be realistic. Is there anyone that believes that North Korea would agree to a ban on nuclear weapons?"
Britain's envoy Matthew Rycroft was equally sceptical about the success of a complete ban.
"The UK is not attending the negotiations on a treaty to prohibit nuclear weapons because we do not believe that those negotiations will lead to effective progress on global nuclear disarmament. They cannot and will not work."
"Schism and division"
Japan – the only country to have suffered atomic attacks, in 1945 – also voted against the talks.
Nobushige Takamizawa, Japan's ambassador to the UN, said working on a treaty "without the involvement of nuclear weapon states [would] only deepen the schism and division" in the international community.
The goal of a world without nuclear weapons has been an aim normally embraced by successive US presidents. Some cynics see it as merely paying lip service. The current Trump administration is reviewing even this position.
The Non-Proliferation Treaty, which entered into force in 1970 is aimed at preventing the spread of nuclear weapons and weapons technology.