N.Ireland parties told time is running out to form new govt
Comments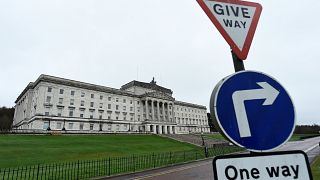 Political parties in Northern Ireland have been given an extra few weeks to try to reach agreement on the formation of a new power-sharing government.
This after a Monday deadline passed for Irish nationalists and British unionists, who otherwise face fresh elections or London retaking direct power.
The Secretary of State for Northern Ireland, James Brokenshire, said: "I have spoken to the leaders of each of the main parties this afternoon and there is no appetite for any alternative. I'll be making a statement in Parliament tomorrow on the next steps.
"We now have a short window of opportunity to resolve outstanding issues and for an executive to be formed."
Both sides accuse the other of intransigence in negotiations to nominate a government after recent acrimonious elections.
Arlene Foster, leader of the Democratic Unionist Party and former First Minister of Northern Ireland, told reporters: "The decision of Sinn Fein not to nominate today, and thus block the creation of a new executive, is very regrettable and damaging to all of the people that we represent."
Sinn Fein argues its demands are based on achieving equality and respect.
Michelle O'Neill, the leader of Sinn Fein in Northern Ireland, said:
"We came at the negotiation with the right attitude: wanting to make the institutions work, wanting to deliver for all citizens.
"Unfortunately the DUP maintained their position in relation to blocking equality, delivery and equality, for citizens. "
The political crisis in Northern Ireland comes at a bad time for the British government, just two days before the prime minister is due to trigger the process of leaving the European Union.