Belgium has been marking the first anniversary of the Brussels airport and metro attacks.
A ceremony was held on Wednesday at Maelbeek metro station in memory of the 16 people killed there.
Another ceremony was held at Brussels Zaventem airport, to honour the 16 people who lost their lives in that suicide attack, earlier on March 22, 2016.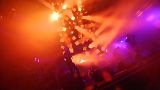 The French city of Lyon's "Nuit Sonores" electronica festival has kicked off for its 15th edition.