Martin McGuinness: the armalite to the ballot box
Comments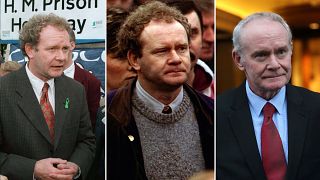 Mixed reactions are pouring in after the death of Martin McGuinness, the Sinn Fein leader and former Irish Republican Army (IRA) leader who turned peacemaker helping end Northern Ireland's 30-year conflict.
The 66-year-old died on Tuesday after a decade as deputy first minister of the British province.
It is understood that he had been ill with a heart condition. The politician stood down in January in protest over a domestic political row in Northern Ireland, and shortly afterwards quit politics because of his illness.
McGuinness played a central role in the power-sharing government in Northern Ireland following the 1998 Good Friday Agreement. He became deputy first minister in 2007, and worked alongside leaders from the Democratic Unionist Party who had previously been his bitter enemies – such as the Reverend Ian Paisley.
As a young man in County Derry, McGuinness saw his mission as defending the rights of Northern Ireland's Catholic minority against the pro-British Protestants who had long dominated the province.
He was a senior IRA commander, in a period when the paramilitary organisation carried out deadly bombing campaigns in England whilst simultaneously standing for election. This was a strategy they called 'the armalite and the ballot box.' But even many of McGuinness' sworn enemies would eventually warm to him.
Ian Paisley Junior, the son of McGuinness' arch-enemy turned ministerial partner gave a sense of the conflicting roles the Republican leader would assume throughout his life. He said: "We'd had at one end of the scale the godfather of the Provisional IRA, and at the other end of the scale the man who became pivotal, as our party leader has said, in being in the government of Northern Ireland and of bringing republicans to that point where peace was the way forward. It's a remarkable journey."
Ian Paisley Jnr says his father and Martin McGuinness had "very personal talks" and had prayed together pic.twitter.com/lHQm60SiEm

— RTÉ News (@rtenews) March 21, 2017
McGuinness proved himself to be a gifted diplomat as Sinn Fein's chief negotiator in the talks that would lead to the Northern Irish Peace agreement (The Good Friday Agreement). He shared power in relative harmony for over a decade, even sharing jokes with his former enemies.
In 2012 there came a highly symbolic moment when McGuinness shook the Queen's hand during her visit to Northern Ireland, which he described as an important gesture of reconciliation.
Martin McGuinness 1970-1994 shows us what happens when politics fails.
Martin McGuinness 1994-2017 shows us what's possible when it doesn't

— Kevin Meagher (@KevinPMeagher) March 21, 2017
Leading unionists in Northern Ireland have acknowledged the role McGuinness played in the transition to peace.
People who say "I wouldn't have negotiated with a terrorist like #martinmcguinness" should be made to live in West Belfast. In 1972.

— Aidan O'Brien (@ArtimusFoul) March 21, 2017
However, amid the tributes on social media following his death, other comments show that many believe it is important not to forget his violent past.
'There can be no forgiveness without a confession of sins' – Lord Norman Tebbit speaks on Martin McGuinness

— Good Morning Britain (@GMB) March 21, 2017
Others hold the view that violence breeds violence and it was the situation McGuinness was born into which led him to join the IRA.
In later years he said: "My war is over. My job as a political leader is to prevent that war."
Statement from President billclinton</a> on the passing of Martin McGuinness."He believed in a shared future, and refused to live in the past." <a href="https://t.co/oa0RJa6cFT">pic.twitter.com/oa0RJa6cFT</a></p>&mdash; Caitriona Perry (CaitrionaPerry) March 21, 2017