Members of seven firefighters' unions demonstrated in Paris to protest against a cutback in resources and to denounce their working conditions.
According to the unions' joint press release, professional firefighters are struggling with reduced financial and human resources, resulting in a drop in their efficiency during operations.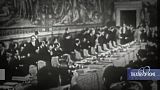 The leaders of Belgium, France, Italy, Luxembourg, the Netherlands and West Germany signing the Treaty of Rome on 25 March 1957.