Members of seven firefighters' unions demonstrated in Paris to protest against a cutback in resources and to denounce their working conditions.
According to the unions' joint press release, professional firefighters are struggling with reduced financial and human resources, resulting in a drop in their efficiency during operations.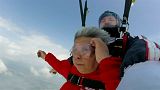 A 70-year-old grandmother has become an internet star in China after she took up skydiving.