Severe storms and tornadoes roared through Ottawa, Illinois and the small town of Naplate on Tuesday.
The National Weather Service rated the tornado an EF-3 on the Enhanced Fujita scale with winds of up to 155 mph (250 kph).
Hundreds of homes have been damaged or destroyed in the storms which began on Tuesday. One man was killed in Missouri and two other people died in Illinois.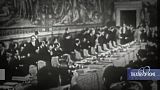 The leaders of Belgium, France, Italy, Luxembourg, the Netherlands and West Germany signing the Treaty of Rome on 25 March 1957.