Hollywood stars condemn Trump at pre-Oscars rally
Comments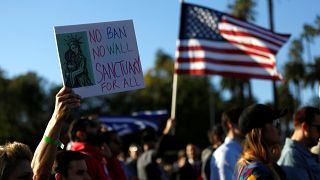 Hundreds of people including Hollywood stars have held a rally in Beverly Hills ahead of the Oscars on Sunday to denounce President Trump's immigration policies.
It was organised by the United Talent Agency, one of Hollywood's biggest agencies, replacing its annual Oscar party with what it said was a show of support for freedom of expression and unity.
Michael J. Fox spoke in defence of refugees and criticised a "growing intolerance and lack of compassion".
He was joined by Jodie Foster, who said that while she had shied away from political activism in the past, now it was "time to engage".
"We know that the first attack on democracy is an assault on free expression and civil liberties. And this relentless war on truth. And unfortunately, sadly, it's too familiar because history repeats itself," the actress told the crowd.
"This is our time to resist. It's our time to show up and demand answers. It's our time to tell our elected officials to do their job."
Thank you PiperPerabo</a> <a href="https://twitter.com/aaronpaul_8">aaronpaul_8#KristenWiigAndrewRannells</a> <a href="https://twitter.com/hashtag/JodieFoster?src=hash">#JodieFoster</a> for coming to <a href="https://twitter.com/hashtag/UnitedVoices?src=hash">#UnitedVoices</a> and for making <a href="https://twitter.com/hashtag/RefugeesWelcome?src=hash">#RefugeesWelcome</a>! <a href="https://t.co/fvBOrOxAmH">pic.twitter.com/fvBOrOxAmH</a></p>&mdash; IRC Intl Rescue Comm (theIRC) February 25, 2017
Among the crowd were a few supporters of the American president. The Trump administration, whose attempt to introduce a ban on travel from seven Muslim-majority countries has hit legal obstacles, has said it is working a new executive order.
"I think we have to get control of the borders. It's temporary, let's slow down for a minute and let's get a better process. And I think we need to give the president a little bit of time to see if his policies work," said Trump supporter Todd Hurlburg.
The directors of all five Oscar-nominated foreign language films have denounced what they call a "climate of fanaticism and nationalism" in the United States and elsewhere.
The directors from Iran, Sweden, Germany, Denmark and Australia spoke out in a joint statement. Iranian film director Asghar Farhadi is boycotting Sunday's ceremony in protest at Trump's travel ban.
From Tehran, Asghar Farhadi says artists "can break stereotypes" by "turning their cameras to capture shared human qualities" #UnitedVoicespic.twitter.com/jGo8dSqfhS

— United Talent Agency (@unitedtalent) February 25, 2017